If you are like most people you don't have enough usable closet space in your home. How many times have you heard "I wish I had a larger closet in the bedroom, hallway, or basement." This can easily be remedied with the services of Sunshine Alliance Cabinets & Millwork. Our more than 15 years of combined experience has turned our craftsmen into the experts who will create the closets you are looking for.
We work with home and business owners in Palm Beach, Broward, and Miami-Dade counties. There is no custom closet project that is too large or too small for us to handle. Turn your unused spaces into graceful and utilitarian areas to store the items that are special to you.
Our Closet Services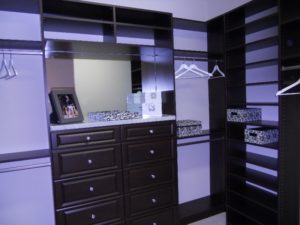 We design and build closets for homes, apartments, condos, businesses, and yachts to your custom specifications. Our staff uses the highest quality materials and specialized skills to introduce a new closet concept in woodworking. If you are looking for something unique as well as useful, we are here to help. Our work rivals the best closet creation on the market.
Choose from a traditional, contemporary, or classic closet look or a unique design of your own. We can duplicate closets you have seen elsewhere you would like to have in your home. We pay special attention to detail to ensure that all work is completed to your satisfaction. No shortcuts are taken in designing, making, assembling, and finishing your closets.
Our craftsmen will make semi-custom closets if that is your desire. Superior materials and workmanship will be used to create closest worthy of your available space. We want your designing and cabinet creation experience to be something you are truly proud of! Look at the choices of various closet colors we have on our Pinterest Page. 
Our
Closet
Designs and
Styles Are Limitless
Let your imagination and creativity be your guides to beautiful and timeless closets. Most people have more than one purpose for closets. Here are some major ones:
Walk-in Closets

Reach-in Closets

California Closets

Laundry Room

Specialty Closets

Kitchen

Pantries
Walk-in closets offer more space and depth than a reach-in closet. Typically they are located in a master bedroom. They have an assortment of drawers, doors, and hanger areas to just about accommodate any personal items you would want to store. Do you want it for a storage area only or for storage and a dressing area? We can design and build either option.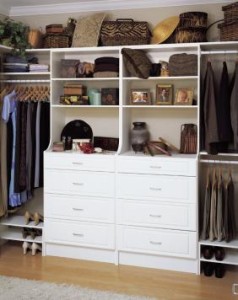 Reach-in closets can offer a lot of space but not much depth. A general guideline is 24" to 30" deep to allow for hangers. They are common in hallways and smaller areas. You can create an efficient space with different types of storage opportunities.
You can arrange a number of different ways to store personal items including:
Adjustable mounting

Stackable storage

Shelving

Hanging

Cube organizers

Drawer units
Hang, fold or stand up items in your closet. We work with all of them to fit your needs. Many of our customers arrange items in seasonal zones. Another common way to organize is by type of clothing such as coats, blouses, trousers, shirts, shoes, etc.
Laundry room closets and kitchen pantries are two more of our specialties. Adequate lighting is another feature of quality closets than enhance their beauty and visibility. There are many models to choose from with styles and finishes to match your closets.
Customer Testimonials
Say
It All
Out of a random sample of 39 recent reviews, we received a 4.9/5.0 rating. These ratings reflect the quality of our craftsmanship and materials. We work diligently to provide the elegance and utility you prize in closets for any room in your home.
Here is a quote from Jeff, one of our customers. "We had a lot of remodeling done in our house. Bruno made us 2 custom vanities and a linen closet insert. The process was seamless and delivered as promised. Sunshine Alliance Cabinets & Millwork was without a doubt the best contractor of all. I would highly recommend Bruno and his team."
Custom Closets Are Not the Only Thing We Will Build for
You
Let us help design and build your custom closets. We offer a free consultation and estimate. All costs will be provided up front so you will know how to fit them into your budget. We also design and build:
Custom and semi-custom

kitchen cabinets

Cabinets for any room in the house

Install molding and millwork

Assist with computer designing

Wall units and shelves

Vanities for kitchens and baths

Crown molding for ceilings
Hallway designs and creations
We guarantee you will be pleased with all of our work. Many of our customers refer their friends and family members to us. We use the highest quality materials, craftsmanship and state-of-the-art equipment available.