Make Your Kitchen Reflect You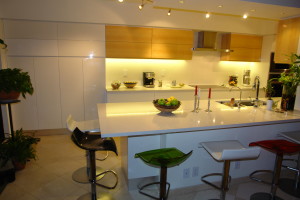 Personalizing your Kitchen can be done many ways. A Quality Kitchen Cabinet Maker offers many options that can assist in making your Kitchen a true reflection of you. Let's face it you spend large quantities of time in the kitchen, so you should enjoy the time you are there to the fullest. The most important thing to remember is that the room should reflect you. Maybe it's your favorite color, a collection of items you already own or even a particular flower that catches your eye.
1. Pendant lights over an island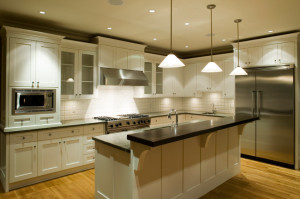 Collections are the one thing that truly enables you to display your personality throughout an entire room. Collections of any shape, size and content can make a wonderful attraction to your kitchen cabinets .
Install pendant lights over an island or a peninsula to bring light down from ceiling height to the work surface. This adds a soft touch to your kitchen, by making your kitchen a warm inviting feeling.
2. Decorative Cabinet Hardware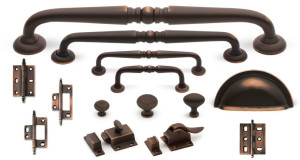 Using decorative hardware such as distinctive door and cabinet hinges, doorknobs and cabinet handles, can drastically alter the overall look of your kitchen and add that personal appeal. It can turn ordinary oak cabinets into anything from an old-fashioned western theme to a high-tech gallery. Cabinet handles can be made out of materials such as metals, wood, plastic, porcelain or even stone. Several companies have made it their business to hand paint and design unique cabinet hardware to be used in either your kitchen.
3. Personalized Kitchen Backsplash

A beautiful backsplash can be the most striking element of a kitchen's design.  It tends to bring everything together. With many different colors shapes and sizes, a custom back splash will definitely personalize your kitchen cabinets.  Nothing is more eye-catching than a sparkling mosaic backsplash. There are many different materials you can use on backsplashes.  From Tumble Marble, to ceramic tiles, and glass tiles to name a few.  Dont just limit yourself to a full granite backsplash. This is most likely the most diverse area where you can personalize your kitchen remodel.
4. Custom Kitchen Ceiling Beams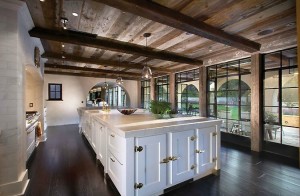 Adding custom ceiling work to your kitchen will definitely bring lots of character to your kitchen renovation.  Plain drywall white ceilings can be so,  flat and kind of boring. Beams add so much character and warmth to a home!  Look into installing a coffered ceiling, these tend to be white and go well with a darker color kitchen.  The big thing is to make sure that it wont lower the ceiling hight too much. Typically you would not want to go this route if your ceiling height is lower than ten feet high.
5. Stylish Wine Rack Kitchen Cabinet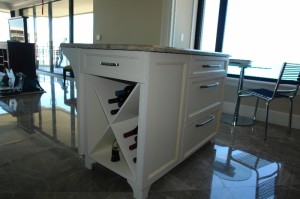 Whether you live in a modern home with contemporary style, you want to display your wine in a way that fits right in with the rest of your decor. They they look great and can add style and a great party gather too. If you are a wine lover, you probably always have a stash of favorites available. Why not show them off as a decor item? Wine racks are not only functional, they're stylish too.  Those who enjoy a nice glass of wine also enjoy bringing a bit of the wine into their home decor. There are many different ways to display your wine collection which will reflect your personal style.
6. Use a Farm Style Kitchen Sink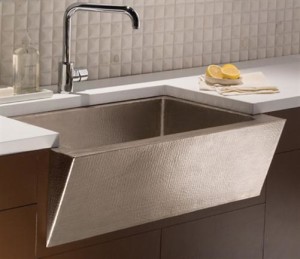 These sinks have come a long way for their simple porcelain beginnings. You can now find Farm Style kitchen sinks in many different shapes, sizes and material composition.  Just take a look at the beautiful sink in this picture, it is built out of copper and the tapered front, well what can I say, WOW. With all the different styles these come in it can fit any decor. Be it Traditional, Contemporary or modern.  Using a Farm Style Kitchen Sink will make your kitchen stand out from all the other common stainless steel under-mount kitchen sinks.  While we are talking about sinks, don't forget to choose a Faucet that will balance out and match the sink style you choose.
7. Paint the Walls your Favorite Color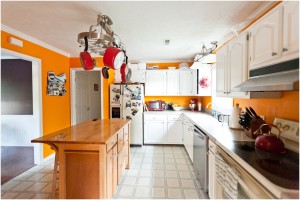 Don't be afraid to go with bold colors.  Its only paint if it doesn't work out go with a different color.  The important thing is to always try to tie things together. If you notice the pots hanging over the island? They match the wall colors.  Now a days everyone goes with the light pastels and why not stand out from the crowd.  If you like Orange, why not paint your wall orange, red, purple, blue.  At the end of the day what matters is that you have a personalized  kitchen. Its your style, your taste, so what if your neighbor doesn't like it.
8. Use Exotic Wood Grains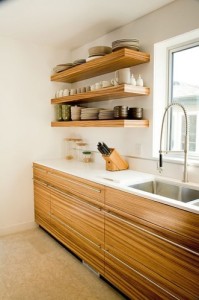 Ok definitely this is not something I could even afford but who knows, maybe some day.  Yes this is probably the most expensive out of all the different ways to have a personalized kitchen. If you have the budget and this is something that you want to do the what the heck, go for it.  There are so many different wood species out there that it would be hard for me to mention all of them. There are alternative materials that you can use and achieve the same effect. There are some imitation laminates that would be hard to notice the difference.  Let your mind run wild, look up some different wood grains.  Ask your cabinet-maker to explain the differences between each and definitely you wont be disappointed.  The ones I like the most are Wenge and Zebra Wood. These have long grains and add lots of character to any room.
9. Add a Butcher Block Counter Top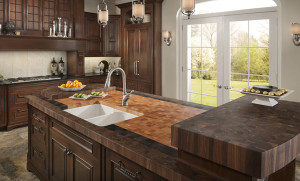 Warm and accommodating, butcher block is a countertop material with a lot going for it. It does require more to maintain, but if done on regularly your butcher block will reward you by aging gracefully. But without proper upkeep, it can dull and crack. There are many different materials that butcher block counter tops can be made of.  Maple is one of the best and most popular for butcher block counters because it's hard and has a clear grain. Cherry and red oak offer rich color. Which ever wood you choose butcher block counter tops is a great way to have a personalized kitchen, which can reflect you.
10. What have you done to Personalize your Kitchen?
These are just some different options that I have put together. There are so many ways that where not mentioned. What have you done to have your personalized kitchen? Leave a comment below. The important thing is to have fun while remodeling your kitchen cabinets. It can be a stressful  thing to do.  Plan ahead and make your kitchen renovation a pleasant process. Don't give in to the standard every


day remodeling trends. Stand out from the crowd and make your Kitchen Reflect You!