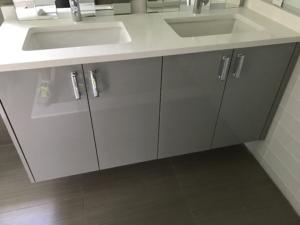 Custom kitchen cabinets are a thing of beauty and utility that grace any home. We are pleased to present our professional services to the South Florida area. We work with hundreds of homeowners who are building new homes and having their current ones remodeled. No job is too large or too small for us. Our experienced craftsmen will meet all of your cabinet needs.
What We Do
We build cabinets for homes, apartments, condos, businesses, and yachts with equal flair and craftsmanship. Our work introduces a new concept in woodworking by using the highest quality materials and specialized skills. We have more than 15 years of combined experience in the cabinet and closet industry and our work equals or exceeds the best cabinetry on the market.
Our company provides new materials and hardware that are becoming popular as well as the traditional, contemporary, and classic kitchen cabinets we have all become accustomed to. We pay close attention to detail on every cabinet front, door, and pieces of hardware. We are innovative in design, manufacturing, assembly, and finishing.
We also create semi-custom cabinets when you are not in the market for full, custom units. Either way, we use the same fine craftsmanship and select materials meet your home décor and needs. Let us help you design your dream kitchen!
Style of Cabinets and Wood Selection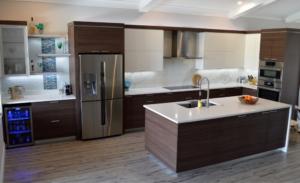 Sunshine Alliance Woodworking & Millwork creates and builds a wide array of kitchen cabinets. We will make them from pictures or plans you found in magazines or online. Let us work with you on the following types of cabinets for your kitchen, laundry room, basement or man cave:
Arched cabinets

Cathedral units

Colorful modern cabinets

Country or rustic

Decorative molding

European style with more glass

Raised panels

Recessed panels

Shaker cabinet

Traditional

design

Vintage cabinets
We welcome other designs not listed above. Your design and dream become our work.
Types of Available Wood
You can also choose from wood color, grain pattern, and natural characteristics. You can vary the natural color with stains and finishes. As an example, you can stain birch a cherry or black color.
Choose from any of a number of popular cabinet woods. You may choose different woods for different rooms in your house. We will work with you on any choice that suits your preferences.
Take a look at these woods that are commonly used for cabinets in most homes:
→
Cherry
→
Maple
→
Oak
→
Alder
→
Hickory
→
Birch
→
Pecan
→
Walnut
→
Popular
You choose and we build. Be as creative as you like and we will work closely with your desires.
Choices of Hinges, Knobs, and Handles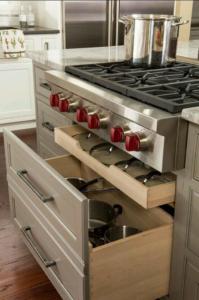 Put your individual touches on your cabinets with hand-selected hardware. Hinges, knobs, and pulls can make a major impact on your cabinets with their styles, finishes, and ease of use. They can affect the look and feel of the entire room.
Some people choose to recycle old hardware from homes or other buildings. Some of it can be modified in shape and finish. Others choose handmade hardware instead of factory produced knob, pulls, and hinges. Let us know your needs and we will try our best to satisfy them.
Styles
Typical styles include contemporary, modern, traditional, vintage, domestic, and international. You can select exposed or hidden screws in the pulls. Another choice for doors and drawers is metal ring pulls. Horizontal tubular pulls add a contemporary look.
Hammered iron handles painted dark colors provide a country style look. Add natural stones or shells for an unusual touch. Mosaic patterns provide an interesting pattern. You don't have to stick to hardware found in America. Search online for styles that are popular in other countries.
One example is hardware from your ancestor's countries.
Materials
Choose from among wood, metal, porcelain, glass, plastic, natural stones, and shell hardware. Select unusual knobs, pulls, and hinges carefully to make sure they won't tarnish easily and wear prematurely. Children can be hard on them. Make sure the screws holding them won't come loose. Use your creativity here and amaze family and friends.
Finishes
Finishes include silver, brass, gold, antique brass, copper, brushed nickel, and rainbow colors. Actually, there are many different colors and combinations of finishes to choose from. Use ideas you've seen in other people's homes, in the catalog, or online. Your choices are only limited by your imagination and those that live with you.
Our Complete Line of Products
and Services
Will Please You
Custom and semi-custom cabinets are not the only things we do. We also design and build:
Custom and semi-custom closets for any room

Install molding and millwork

Assist with computer designing

Wall units and shelves

Vanities for kitchens and baths

Crown molding for ceilings

Hallway designs and creations
Let us build your kitchen cabinets and other housing needs with the highest quality materials and craftsmanship available. Give us a call soon for a free consultation.