Ways to Increase the Value of Your Home

There're a lot of people in 2017 looking to put their home up.
These days, many people watch shows like "Flip Flop" for inspiration in finding new ways to make additions or improvements to their home. Home renovation is fun and inspiring, but it can also be frustrating for those that aren't familiar with the different kinds of upgrades that can help improve the value of a home.
The good news is that there are lots of places that can help someone learn new ideas. That's one of the reasons why so many people watch "Flip Flop." There are also home improvement magazines that have been used to gain a variety of ideas that homeowners can use to improve the value of their house.
Improving Your Home's Value this Spring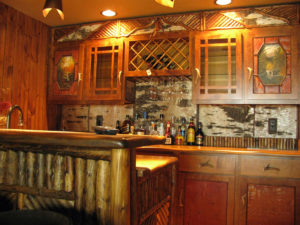 Install Cherry Kitchen Cabinets
One of the most popular ways to increase the value of a home is to add some high-quality kitchen cabinets. Homes that already have kitchen cabinets that are a bit aged could consider upgrading the cabinets in their kitchen with some that are made of a higher-quality wood. Finding the right kitchen cabinets can be a difficult task for someone that's unfamiliar with the process, however.
That's why there are great home design and renovation companies like Alliance Home Design that are able to come and assist a homeowner and answer any questions that they might have.
Exterior and Interior Paint
After the cold, winter months, much of the time the exterior paint of a home can take a beating, especially in states where there is a particularly high amount of rain or where it is extra humid. Here in South Florida, homeowners must deal with one of the most humid climates in the entire country. Those that are wanting to increase the value of their home can certainly start by redoing the exterior paint of the home.
Another idea is to repaint the interior of a house. Maybe the paint of a certain room is fading, or a shade of blue would look better in the bedroom. Those that are looking to improve the value of a home could also repaint a few rooms within the home.
Add Coffered Ceilings
A more baroque way of spicing up a home's interior is by adding coffered ceilings. These are a millwork addition to the ceilings of a home, where lateral beams are placed on a ceiling to give it some texture. In order for a home to properly have coffered ceilings it will need high enough ceilings, but in the right home they can make all the difference.
Baseboards
One way to give the rooms of a house a bit more perspective is to install baseboards. Baseboards can act as a frame, and the white or natural wood-colored baseboards can make the paint of a room pop, as well. That's why adding baseboards is one of the best ways to increase the value of your home.
Alliance Home Design is one of the best home renovation and design companies in South Florida. Whether in Miami, Boca Raton, or the Palm Beaches, the local Alliance Home Design team members are standing by help improve the quality your home. Those that are wanting to put their home on the market and want to get everything they can for it ought to consider making a few renovations! Give Alliance Home Design a call at 954-955-3044.
Tags: cabinets made to order, homeremodeling, Kitchen Cabinets from Alliance Cabinets & Millwork, remodeling